moab
Things to do in Moab
Moab is famous as the gateway town to Arches and Canyonlands National Parks – but our repeat visitors know it for so much more. The 12-month recreation opportunities in Moab and the surrounding area are endless. Our guests choose from a menu of river recreation (Colorado river rafting, canoeing, kayaking, hiking), mountain biking (the world's finest and most diverse mountain biking!), road biking, sight-seeing, rock climbing, canyoneering, wilderness trekking, backcountry camping, archeological exploration - and now - shopping and dining in Moab. And, be sure to budget a day to just relax at Moab Springs Ranch in a hammock in the meadow.
Our Location
Moab Springs Ranch is an 18-acre property located on the site of Moab's oldest ranch, featuring 12 acres of open space and natural landscape to explore, with easy access to Moab's most popular trails and recreational areas. We are located at the north end of Moab's Main Street, one mile from the Colorado River and Arches National Park, with access to popular trails along the Slickrock Mesa.
Special Events
There are always fun and unique events happening in Moab! Check out the Moab Calendar of Events for more information.
Mountain Biking
Moab is famous as the world center of mountain biking. The rapidly expanding Moab mountain biking trail system has something to offer all skill levels. You've heard of the Slickrock Trail – and everything you've heard about it is true. But "Beyond Slickrock" there are hundreds of miles of trails, from paved urban routes, new-school highly technical single-track, sandstone wonderlands and cool alpine riding in the La Sal Mountains.
The Moab area trails network begins at the Moab Springs Ranch front door where we built the first paved bike trail in town – now it connects to the world. Chances are, you have your own bike but if you need maintenance, equipment or an upgrade for tougher trails, Moab has several mountain bike rental and adventure shops to choose from.
The Slickrock Trail is located just east of Moab Springs Ranch. Advanced riders can ride out the Ranch's back door to reach Slickrock, for a bike-in bike-out experience. This trail is rated "high technical difficulty" with a high aerobic requirement, but in our experience, many less experienced bikers have enjoyed this route, and simply hike through the tougher spots.
Learn more about all the world-class trails here, and pick up a detailed trail maps to take with you at the Moab Information Center on Main Street. Remember your water!
Arches National Park
This gem of a National Park features a surreal landscape of color, shapes, and texture. "Arches" has more than 2,000 natural stone arches as well as soaring pinnacles, giant fins and huge balanced red rocks. Arches may have the best short hikes in the world, with Delicate Arch a perennial favorite, even with some company. Arches National Park is one mile from Moab Springs Ranch, and easily accessed by bike or car. Ask our staff about secret places in Arches – including the very nearby and uncrowded Courthouse Wash hike. Full moon or winter hikes in Arches are… pretty much awesome.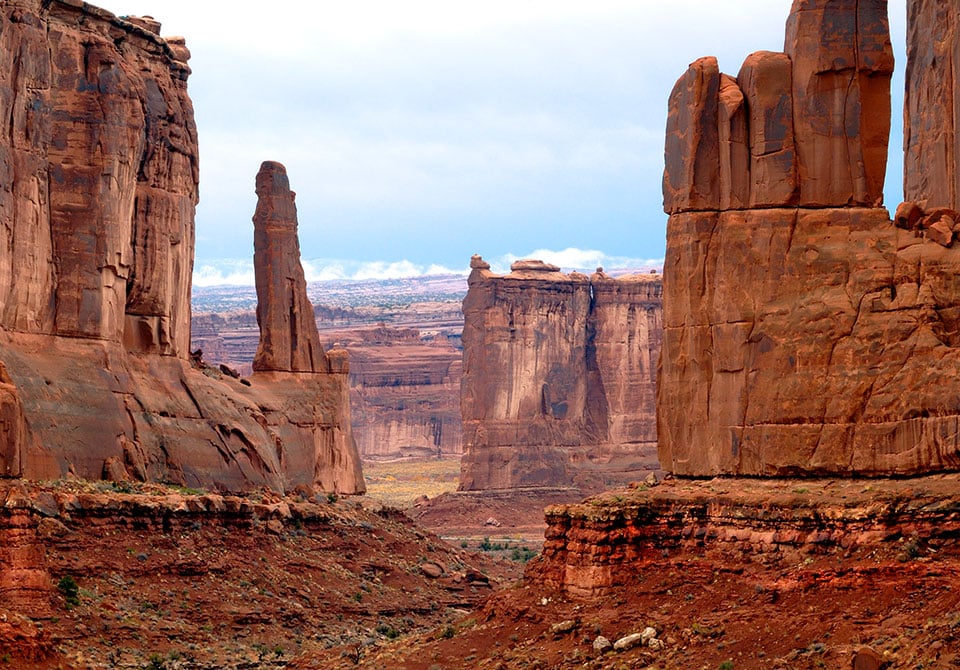 Canyonlands National Park
Canyonlands National Park preserves and showcases the remarkable place where the mighty Green and Colorado Rivers join to form the upper reaches of the Grand Canyons of the Colorado. These rivers divide the park into three distinct regions: Island in the Sky, The Needles and The Maze. Closest to Moab and worthy of weeks of exploration, is Island in the Sky. It may be reached in about 30 minutes by car – maybe two hours by bicycle (it's all downhill coming back!). Island in The Sky is - as the name promises – a high plateau with forever views on all sides. Foot trails and four wheel-drive options scale the precious sides of the Island, and the White Rim Trail girdles the whole feature with 100-plus miles of mountain bike riding.
The rivers themselves offer a huge variety of wilderness exploration options, from rafting to canoeing to jetboating. Again, ask our staff for recommendations which fit your schedule and interests.
Dead Horse State Park
Best view in Moab! A visit to Dead Horse Point on a peninsula of rock atop sheer sandstone cliffs is a must - this unique landscape offers a glimpse at the power of Mother Nature and has a colorful history that any Wild West fan will love to learn about. The state park is only about a half-hour's drive from Moab Springs Ranch. New loop trails at Dead Horse Point offer a very satisfying half-day outing.
Colorado River
Moab is the only town on the banks of the Colorado River for hundreds of miles. The River offers a transformative dimension to a desert experience. Moab is brimming with qualified river adventure specialists. Options for fun on the river vary from exciting Class 4 rapids to relaxing canoe, raft and kayak excursions or stand-up paddle boarding. You can choose from fully guided to self-guided options, and from half day to multi day adventures. The Colorado River is about one mile from the Ranch, and is accessible by bike, car, or foot. A new bicycle-pedestrian bridge offers a beautiful view of the river only minutes from the Ranch. Just ask our ranch staff for suggestions based on your desires for the day.
Local Shopping & Services
Moab's Main Street offers an artsy and increasingly diverse selection of fun and unique shops, galleries, and eateries to explore. We are proud of our alternative artists and craftsman – yes we still have hippies in Moab. Variety on Main Street is exploding – if you haven't been here lately you need to come back and see what's new!

Our Favorite Restaurants
Atomic Lounge - Our favorite very local Mid-Century Cold War themed Restaurant and full-service bar located across the street.
Denny's - Yes, the classic American Diner! Walking distance towards town.
Desert Bistro - Scott and Michelle Kelly are incredible – Highly recommended!
Eklecticafe - Our favorite Moab place for breakfast and interesting people
Sabaku Sushi - You will be amazed how good the sushi tastes
98 Center - Lunch by day and lounge by night they serve house-made pho, an array of flavorful sandwiches and salads
Eddie McStiff's - This a great place to keep the excitement of the day going. They regularly have live music and offer a gluten free menu.
Jailhouse Cafe - Breakfast. They have killer pancakes.
Milt's Stop & Eat - Classic 1950's diner with old fashion milkshakes and grass-fed hormone free beef burgers
Moab Brewery - A popular Moab restaurant, brewery, and distillery on Main Street. It is perfect for the beer lovers out there!
Peace Tree Juice Cafe - Breakfast, lunch, and dinner. High quality organic & locally sourced.
Red Rock Bakery Cafe - Breakfast and bakery when you are craving something sweet.
Love Muffin Cafe - Coffee, breakfast, and lunch. Perfect to fuel your Moab adventures.
Miguel's Baja Grill - Excellent Baja style Mexican food.