amenities
Ranch Features
Discover the gorgeous private park, pools, ponds and waterscape at the historic Moab Springs Ranch, nestled in a grove of Cottonwood trees beneath the Slickrock Trail Mesa.
Horsethief Coffee Shop at Moab Springs Ranch
Moab Springs Ranch now has its very own coffee shop located inside the Historic Ranch House!
Horsethief Coffee features locally roasted coffee beans from Fresh Moab Coffee (FMC) and uses local and organic ingredients as much and often as possible.
Fuel your adventure with quick grab-and-go breakfast burritos, freshly baked pastries, or a homemade mountain bar!
Proud to support and serve: FMC Coffee, Wild Bloom Fermentations, and South Mountain Provisions (Baked in House).
Outdoor Pool & Hot Tub
If you are looking for an accommodation with a hot tub, Moab Springs Ranch is the place to stay. Take a dip in our super-clean heated 42-foot outdoor swimming pool and our outdoor hot tub. Our pool opens seasonally from mid-March to mid-October & closed in the winter (CALL FOR DATES), hours from 10 a.m. to 9 p.m. The hot tub is open year-round, hours from 10 a.m to 9 p.m.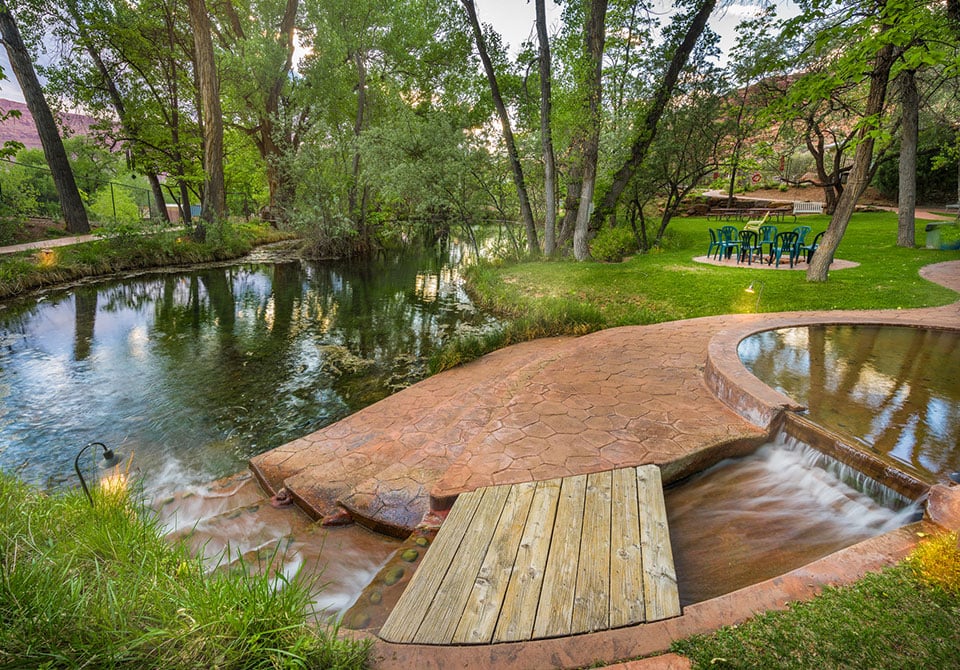 Private Park & Vineyard
Moab Springs Ranch features 12 acres of beautiful open space, a private park, wading pools and vineyards to explore. The historic Ranch property is shaded by a grove of majestic Cottonwood trees. Hike to the top of Arrowhead Hill or the old cattle trail for incredible sunset and portal views. The private park includes hammocks, picnic tables, lounge chairs, a campfire circle and wading pools. Take a dip in the cool spring water pond during a hot day, bring floaties for some old-fashioned fun!
Trail Access and Views
Use the pedestrian/bike path in front of the resort to access the Moab Canyon Pathway, a paved non-motorized path that allows riders to avoid the busy four lane Highway 191 and have safe access to the state and national parks, The Brands Trail System, and the scenic and shaded paved path that meanders along the upper Colorado River corridor for a couple of miles. Experienced mountain bikers riding the epic Whole Enchilada can ride back to Moab Springs Ranch using this trail.
Environmental Sustainability
Moab Springs Ranch has a rich historic and environmental legacy to preserve and protect. It is a humbling privilege to be stewards of this special place. We are committed to environmental sustainability on every level of our work, from design and construction to our resort operations.
Moab's Sustainable Tourism Video
Preserve, protect, nurture and restore natural features, habitat, trees, water, and historic structures
Set aside an ample measure of open space
Design and build ultra-high energy efficiency buildings. Maximize the use of recycled, sustainable and green sourced materials. Use contextually appropriate architecture.
Minimize energy use, waste and water consumption
Recycle and re-use
Renew the Ranch and cultivate permaculture – grow food and sustain wildlife habitat
Minimize the use of pesticides
Encourage visitors to minimize their impact while on vacation. Educate visitors about the regional environment
Support community and neighbor efforts to preserve and improve the environment
Always improve. Yesterday's standards are not tomorrow's standards
Ranch Features
Pool and Hot Tub
Campfire Circle
Hiking Trail Access
Paved Bicycle Trail Access
Environmental Sustainability
Complimentary High Speed Wi-Fi
Air Conditioning
Free/Dedicated Parking
Electric Vehicle Charging
Natural Flowing Streams